There are so many creative and talented bloggers out there who can immensely inspire you. Tuuli J is a thirteen year old girl who blogs from Estonia and is my regular source of inspiration. In her blog
Fallie's Scrapbook
she shares with the rest of the world her daily outfits and some drawings of big-head models wearing inspired garments from famous designer's collections. Even if you are busy now and probably have tons of other things to do, take a look at my interview with Tuuli. You'll be amazed at how creative this girl is.
Me:
You first started blogging in April 2009. Who inspired you to start a blog?
Tuuli from Fallie's Scrapbook:
Mostly my sister, but also tons of other bloggers. When I saw all these amazing blogs, I also wanted to show off my artwork and get feedback from others.
If your real name is Tullie, why is your blog called Fallie's Scrapbook?
Well, actually my real name is Tuuli, but many people call me Tulli, Tullie or Fallie, but truth is that Fallie was just my username on several social networks long time ago and I started to like this name and used it as my blog title.
Most of your readers know what you do in your blog. Besides blogging what other things do you enjoy doing in your free time?
I go to art school three times a week, where I draw, paint and study art history which actually pretty interesting. I also like to spend time with my classmates and friends.
A drawing of Alexa Chung by Tuuli. Amazing, uh?
Everyone begins to develop their own personal style when they are around 12, your age. How would you describe your style?
I've never been able to describe my style, because it's really changing. One day it's girly, the other day it's very boyish again. I think I can say that it is like a chameleon - changes according to its mood.
Where do you get your inspiration for your outfits?
Most of the inspiration comes from streetstyle pages, lookbook and loads of other cool bloggers. I also like to flip through tons os fashion magazines and art books.
If you could name 5 of your favourite items in your closet, what would they be?
Striped nautical mini dress, new harem pants, snake-skin patterned assymetrical shirt, high waisted denim shorts, dr. marten look-a-likes and so many more.
Your sister Anni also has a blog called
Style Hurricane
. Do you enjoy having someone that can share your passion for blogging and fashion?
Yes, it's really great that there's someone who I can share my opinion and passion with. My sister also buys my clothes and takes photos of my outfits.
One of the most original things you draw are those big-head models with outfits inspired from designers' collections. How did that idea pop into your mind?
When I first started my blog I had this lack-of-ideas period and I just flipped through my sister's fashion folders. I found an interesting dress from there and just decided to draw it on a sketchy model, but when I started to draw designer clothes regularly I decided to draw a special model for that, and as I didn't want to draw these usual fashion illustrations I just drew a really big lollipop head to my model.
The army of models:
Thanks for reading! I also wanted to thank Tuuli for taking her time to answer these questions. If you haven't visited her blog yet what are you waiting for! Click here.
Are you following me with Bloglovin'?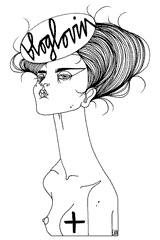 Note: All of the images are from
Fallie's Scrapbook