Looking for new blogs is like a treasure hunt, you never really know what you're going to find. Once, I was really lucky to come across

afterDRK

,

a blog by a 22 year old Dutch girl named Sabrina. From then on, I keep going back to find to fullfill myself with the inspiration that this amazing blogger offers.
Sabrina ,who descrives herself as a "22 year old fashion-addict putting her outfits, cravings and thoughts up and around on the internet", shares what's behind her blog in this opportunity I got to interview her.
1- Since most of your readers probably haven't met you in real life, how would you describe your personality to give them a clear picture of who you are?
Well, apart from the whole fashion loving person that I am (which you probably all know already), I think the best way to answer this is to give a couple of key words about me. I'm kind of a stickler, if there's something that I want I'm gonna go for it no matter what and don't stop until I have it. What is working a little against me while being a stickler is that I am a perfectionist too. I'm never done with working on something, cause there's always things that can be done better. And I am an extremely caring person. I'm always hoping for the best for everyone and I try to always respect people in a way that they respect me.
2- Why did you start bloging and what has continuously motivated you to do so?
I started blogging because I was getting this big amount of inspiration of other bloggers and I wanted to see if I could give a little inspiration back. For me this is my way to express myself, I used to do this by drawing a lot when I was little and this slowly changed into fashion (though I still like to draw sometimes).
3- How did you come up with After DRK as your blog's name? Does it have any special meaning ?
AfterDRK means that time of the day right after it gets dark. I chose this name because of something I'm planning to do in the near future, but you're going to have to see.
4- When did you first become envolve in the world of fashion? Why?
When I was a little girl, my mom always used to drag me to all different kinds of shopping cities through out our country. She just loves shopping and everything that has to do with fashion so I think it's kinda in my genes haha. Though my sister doesn't share this interest at all.
5- Besides fashion and blogging what are your other interests?
As I already said I really like to draw, I'm a food loving person, enjoy hanging out with my friend and explore the world.
6- You're often invited to fashion events like Amsterdam Fashion Week, Elle Beach Boat Parade, and LuisaViaRoma event. What was the best experience you had in those events?
I think to get invited to Florence for the LuisaViaRoma event was the most special, because there were lots of other bloggers that I am following for a long time now and it was a big honor for me to be able to be there with them. Also that I got recognized in London at a really nice party by people that I recognized from tv.
Sabrina at the Elle Beach Boat Parade
7- Anyone who reads your blog probably knows that you are a huge fan of Finsk wedges. What other designers or brands do you like?
This changes from time to time. I'm really into Scandinavian brands such as Acne. Their designs are always so clean, but with that special twist or edge that makes it interesting. There's a couple of Dutch designers that I'm a big fan of like Ilja Visser and Iris van Herpen and internationally I love Alexander Wang, though I didn't like his last collection at all.
Sabrina and her Finsk wedges
8- What beauty product can you not live without?
Anything MAC, I'm a huge fan of that brand.
9- How do you feel about being about having the whole Dutch fashion world looking at you at the moment?
I don't really see it like that, but it's amazing to be getting a lot of opportunities and be able to do something in this industry that I really love and started all by myself.
10- Now that you have recently graduated, what do you plan to do in your future? Do you have any fashion related goals you would like to achieve?
Yes I do have a big fashion related dream that I'm going for, but I'm not going to tell about it yet, sorry!
I also want to thank Sabrina for the opportunity and for sharing new things with us.

Thank you Sabrina!
If you're dying to check out her blog click
here
. You will probably find yourslef eager to see Sabrina's next post and will be visiting constantly, just like me! :) If you don't want to miss any of her posts you can follow her with
Bloglovin'
.
Note: All images above belong to
afterDRK
.
Are you following me with Bloglovin'?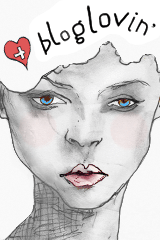 -The Trendy Fashionista