Yes, Fall is definitely here and it will stay for a while, followed by its sibling Winter. And it is never too late to follow trends, right? After all, they always help you out when you are looking for something to buy around stores or when you simply don't have a clue of what to wear in the morning.
Capes, you can't leave the house without one.
Cat prints are all over the runway! Wear them as dresses, coats or even accessories like bags, belts, and pumps.
Don't worry animal lovers, even faux fur counts. Just remember that nothing will keep you warmer and give you that instant glamour as fur does.
Camel is the new black It just goes with everything and looks fabulous on everyone. You'll want to wear it forever.
Shearling jacket, one word: must-have. Look at Burberry's shearling jackets in shades of khakis and chocolates and you'll never go wrong. Give it a twist and wear yours with a party dress.
Knits are the perfect piece to have in your closet. During fall wear them while the temperate is still slightly warm. During Winter they'll be a must for your layered look.
Menswear inspired suits are the key.
As Coco Chanel said "Always take something off before leaving the house". One thing to keep in mind is that less is more. Simplicity and luxury combined give the best effect.
This Fall color, color, and more color won't hurt because that is what it is all about! And the way to wear it, very simple: from head-to-toe.
It's all about curves and a touch of femininity and vintage.
Note: Don't feel as though you need to follow trends just because you see them all over fashion magazines and fashion blogs. Follow them because you like them or want to experiment and play with something new. Most importantly don't wear a total look, you wouldn't want to look like a picture of style.com would you?
-The Trendy Fashionista
Are you following me with Bloglovin'?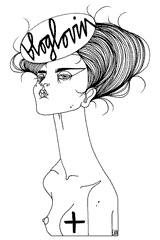 Collages by:
me
Pictures from:
Style.com
and
Vogue.co.uk