It was the time of the year when everyone dressed up, with capes, lace, masks, and such. When the last day of October finally came, no one could hide their excitement any longer and all of them went to trick or treat around the gleaming city of lights. It was a beautiful night in Paris, the pith black sky only had a couple twinkly stars that all seemed to be tremendously far. There were a few gentle cold breezes of air from time to time, which made the leaves swirl until they reached the ground. The girls were freezing, as the cold penetrated through their skin. But, they tried their hardest to ignore all of their goose bumps since they knew they would soon be there. When they finally reached their destination, all the girls were flabbergasted. They never imagined Carine's party could look as spooky as a haunted house, but of course, it was extremely more stylish. A big sign with red bloody letters hung from the doorknob. It said "Ball Masqué. Pas de masque, pas d'entrée." Even though some girls had left their masks at home, they still knocked on the door. When Carine opened the door they asked "Trick or treat?" The night was just going to start...
Editorial: Vogue Paris October 2010
Photographer: Mert Marcus
Models: Lara Stone, Freja Beha Erichsen
Source of images: Fashion gone rogue
Story by: ME
Are you Following me with Bloglovin'?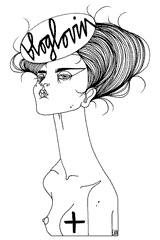 -The Trendy Fashionista